So you've got your new e-commerce store set up on Shopify, Woo Commerce, Big Commerce or another e-commerce platform. Now it's time to add some products and start making money! Woo-hoo!
Not so fast.
Your store is just one store among many in the online shopping universe. How will you stand out from other e-commerce stores selling similar or exactly the same products? How will you beat Amazon? With no sales yet, you have no email list or loyal customers to market to and no one will recognize your logo.
Seems pretty daunting, right?
Don't worry, all is not lost. Start with PPC advertising.
How to win at e-commerce
There are 3 ways to win the e-commerce marketing battle: Sell cheaper than anyone else; sell something people can't buy anywhere else; be a digital marketing guerilla. If you have the best price on items that are widely available, you'll sell them. If your items can't be bought anywhere else, you'll sell them (once you build a customer base); if you can market products better than your competitors, you'll sell them.
When you first launch your e-commerce store, you don't have the benefit of a large social media following, SEO, or an email list. That means you'll have to commit dollars and effort to PPC ads on Google, Bing, Facebook, Instagram and other platforms (we won't discuss Amazon ads here).
Before setting up your PPC advertising, fill in as much product data as possible on your product pages. Depending on the types of ads you'll be running, you'll need a little data or a lot, but it's good to show as much as possible on the product page to guarantee transparency for the customer and to answer as many questions as possible. It's also a best practice for SEO.
Side note: Before we get into the PPC advertising stuff, we have to emphasize that you NEED great images to sell products – brightly lit, high resolution, big, fat images (optimal image dimensions are different for each type of ad and ad platform). A soft and shadowy shot taken with your old iPhone can't compete with a professional shot of the same product sold by your competitor – the beautiful image will get the sale every time. This also goes for products you manufacture. If the image is great, the product/s will sell faster than if the image is weak. If the product is rather non-descript (candles or bike chains come to mind) put the product into a scene or show it being used by your target customers – a candle in a romantic setting or that bike chain powering a mountain bike. Be creative – there is lots of room to experiment and there are basically no rules. The old adage that a picture is worth a thousand words is more than true in advertising.
Which PPC ads should you create for your e-commerce store?
Set up a Google Shopping campaign
Google Shopping ads are those product images you see above the organic results or to the right. Products are served on Google Shopping via Google Ads and Google Merchant Center. Your products are uploaded and managed in Merchant Center and the PPC ads for those products are served through Google Ads.
To serve PPC product ads you first have to set up a Google Merchant Center account and then connect it to your Google Ads account. The entire step-through process from Google is here. We've set up dozens of accounts on Merchant Center and Bing Shopping and we've found that if you have a substantial number of products (over 250) and will be feeding them to multiple platforms, you might want to use a feed management tool like Go Data Feed. A product feed management tool will save you a lot of time vs customizing your feed for each platform.
Google Merchant Center, BING Shopping and Facebook Shops require as much information as possible about your products. Brand, product identifiers (GTIN), color, size, shipping weight, how it's shipped, price, tax, and many other data points need to be included. This data is necessary so the platforms can tell if product A is the same as product B or not and serve them in searches for the correct products. Incomplete product data can result in your products being rejected or not served in ads as often as you'd like.
Once your Merchant Center account is up and running, you have to connect it to your Google Ads account. Then you'll be asked to set up your company branding, confirm your website (make sure it's https), set up tax and shipping, customer contact info, and other data.
The rest of the work is done on Google Ads where you'll set up a name for your ad campaign, your country of sale, a maximum cost-per-click bid (the maximum amount you are willing to pay when someone clicks on your PPC ads), determine your daily budget (how much you'd like to spend every day), and more.
Note that for shopping campaigns, you don't have to set up keywords or do keyword research. The product ads are served based on the name and description of the product and the other data you fed to the platform (Like size, color, and brand). The PPC product ads connect to your product pages and cannot be directed anywhere else.
Set up a Bing Shopping campaign
Don't underestimate Bing. While it's definitely not as big as Google's platform, Microsoft Edge is the default browser in most PC's and Bing is the default search engine for that browser. Many people never change it. The good news is, once your store is set up in Bing, it's easy to import the data from Google Merchant Center so you don't duplicate effort. See all of the Bing Shopping instructions here.
Set up Facebook product PPC ads
When you upload your store's product feed to a Facebook Catalog, you can manage your ads a few ways.
Dynamic ads pull items from your catalog and show them to Facebook users after they visit your site or search for the product
Collection ads show 4 items at a time from your catalog
Display products in your Facebook page's shop
Tag products in Instagram business account posts.
You can add video to your product ads.
These KISS t-shirts are being displayed with Facebook's product catalog. You can swipe through and see 4 styles.
Set up Google and Bing text and display search ads
A mixture of Shopping ads, text ads, and display ads is the best recipe for success. If you're trying to reach buyers searching by broad categories (men's hats, rock t-shirts, flannel pajamas), text ads are essential along with your product ads. In the image below, you'll see that LL Bean and Village Hat Shop show in text ads and product ads.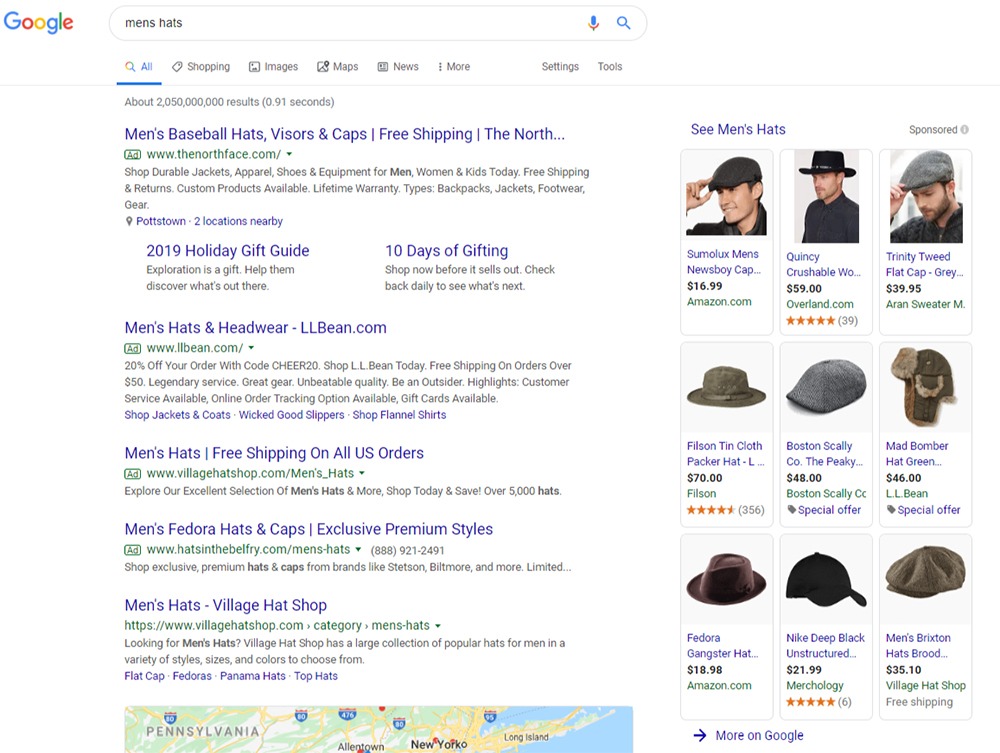 For PPC text ads you'll need to do keyword research and add keywords to your ad campaigns. The value of this step cannot be overstated as it influences how well or how poorly your PPC advertising budget is spent. You'll also need to create ad groups, campaigns, and multiple versions of your ad/s to capitalize on keyword search.
There isn't enough room in this article to dive in-depth into the Google Ads panel, but if you want to start fast and easy, you can set up a Google Ads Smart Campaign. Here are the 7 steps:
Step 1: Choose Your Goal.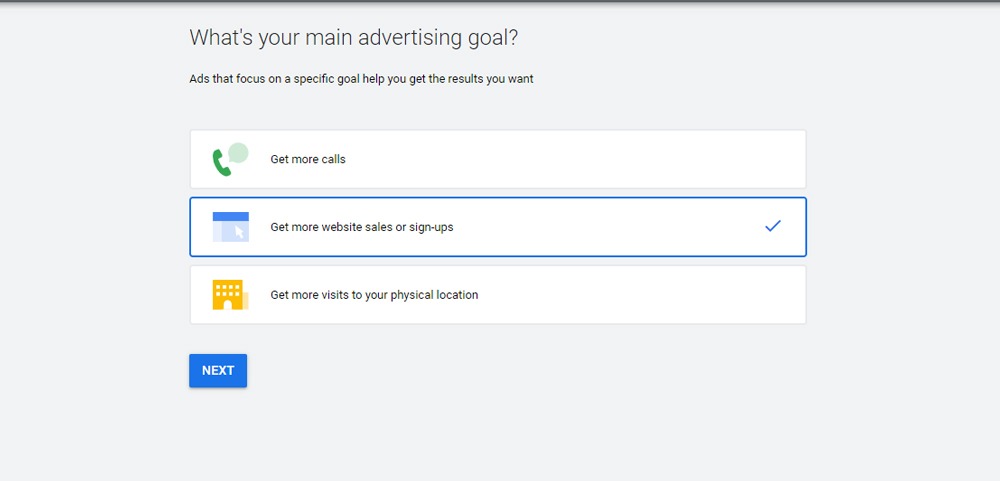 Step 2: Enter the name of your business and your website.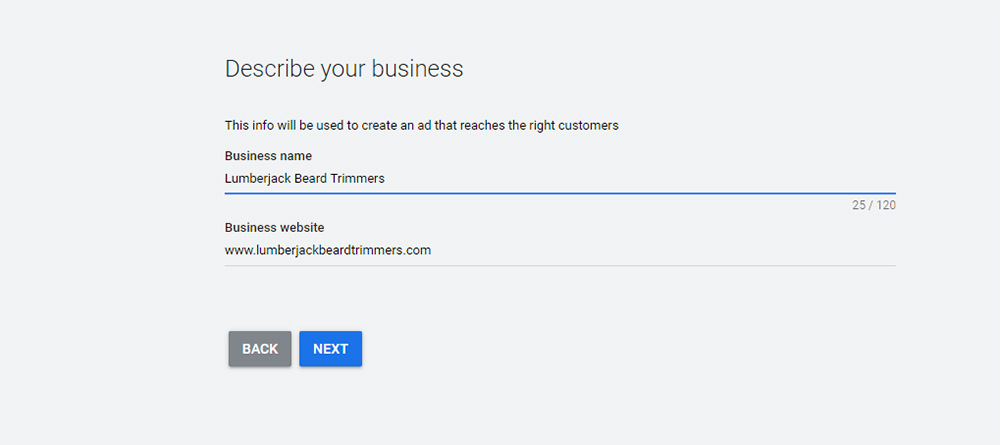 Step 3: Choose your geography. If you're strictly local make sure you restrict this to only the area you serve.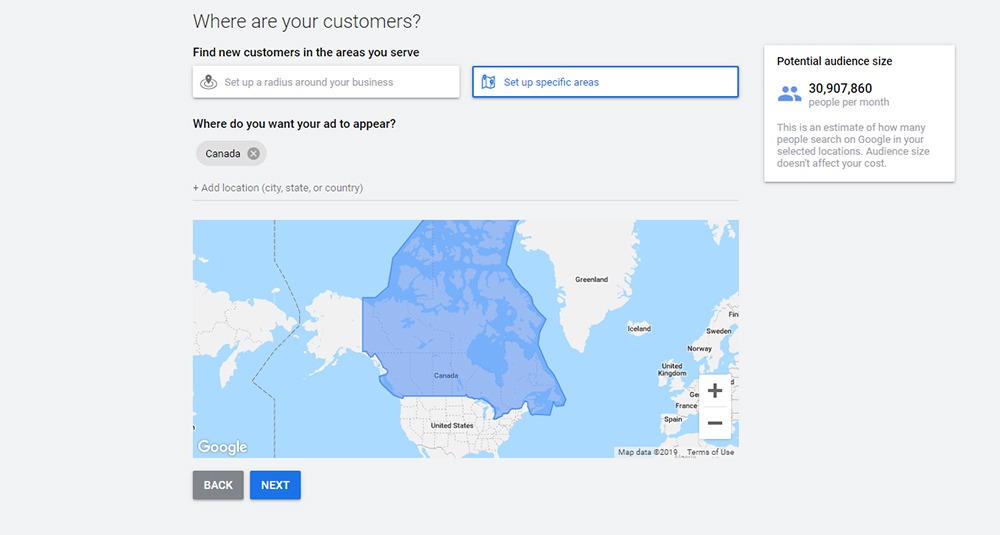 Step 4: Choose your basic keywords. These can be added to or changed later, but start with at least 12.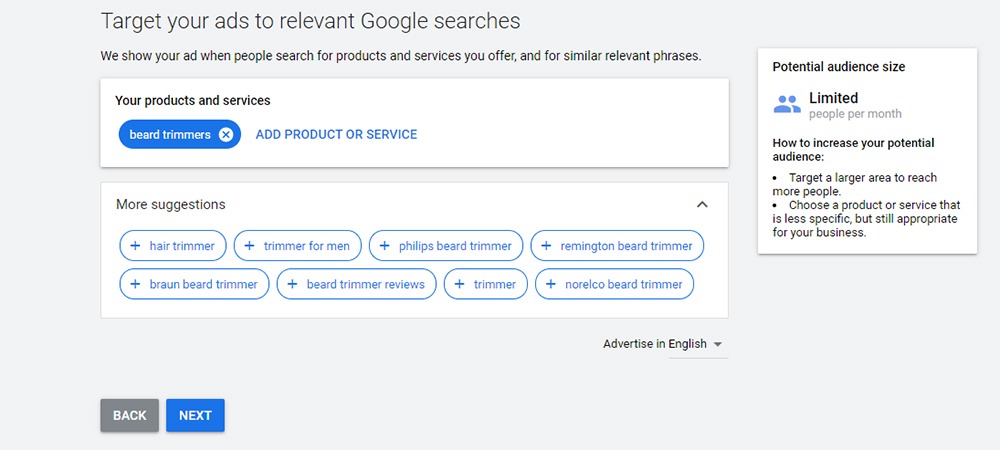 Step 5: Write your PPC ad. Some information will be automatically populated and you can change it as you see fit.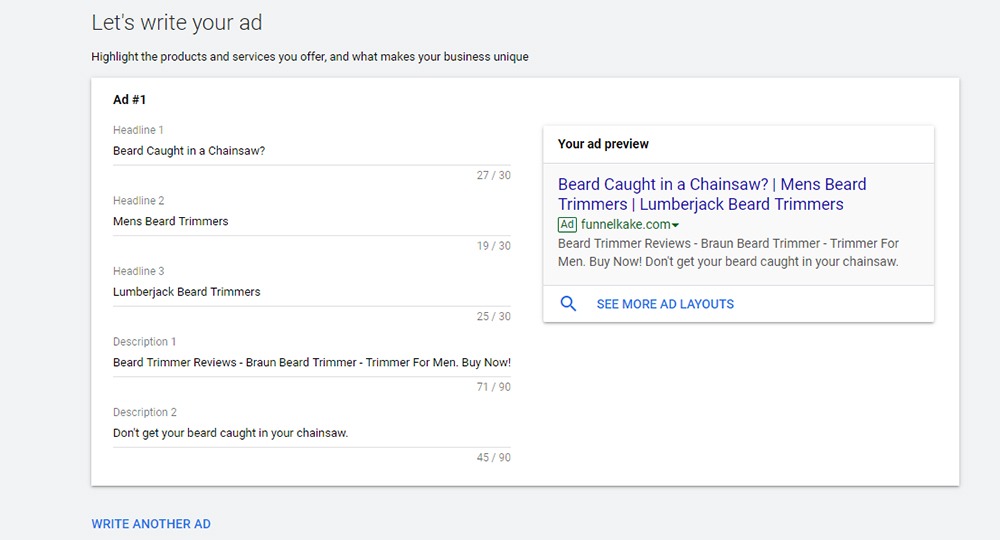 Step 6: Choose your daily budget.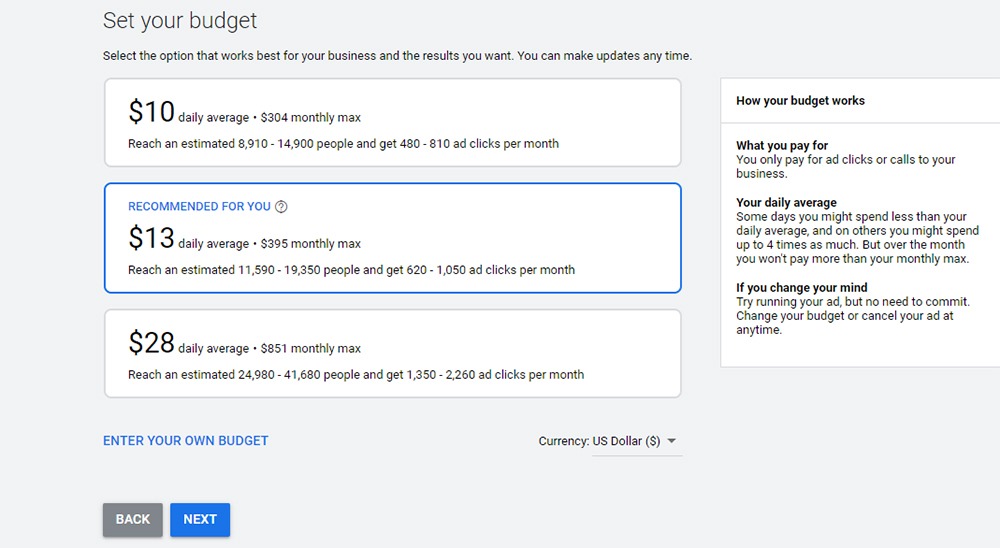 Step 7: Review your info.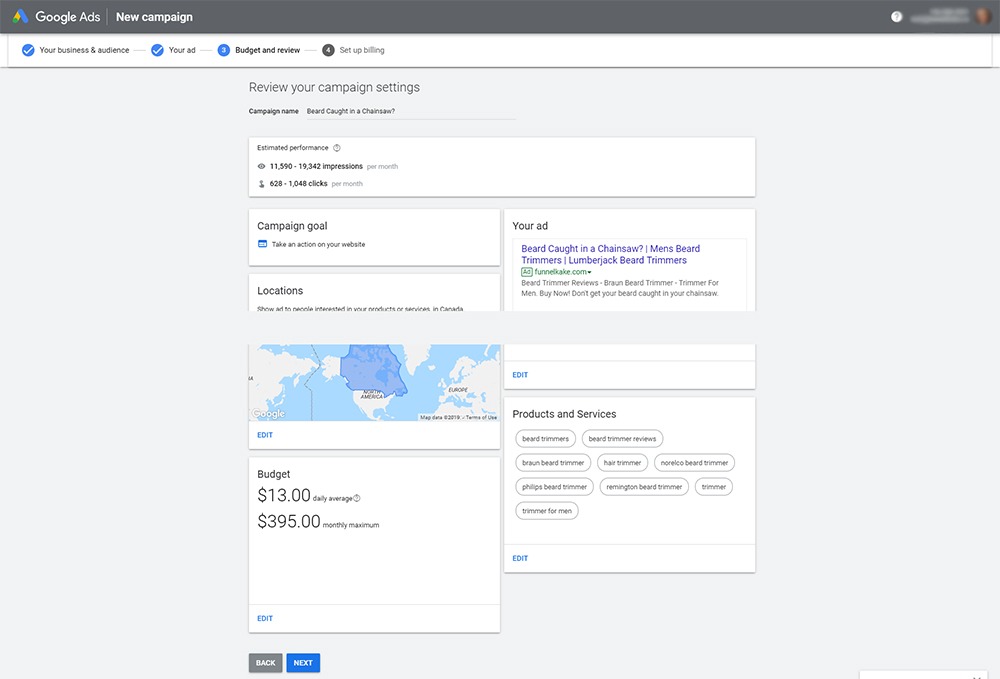 Then add your payment info and you're up and running. Smart Campaigns are automatically optimized by Google. While they don't have the flexibility of the full-blown Google Ads panel, they're an excellent way to get up and running with PPC ads quickly.
Landing pages that convert to sales
If you're advertising just with Google Shopping or Bing Shopping, you can skip this part as the ads will link directly to your product pages. But if you're advertising with text or display ads, you may want to create landing pages.
Landing pages for e-commerce are intended to either sell the product immediately or give the users more info for a later purchase. So as not to complicate things, let's say you want to sell that beard trimmer to lumberjacks.
Your landing page MUST have terminology that is identical or similar to the PPC ad it's connected to. The same keywords must appear, or the search engine may give your landing page a lower landing page experience score which will reduce the frequency your ad is shown, and/or increase your average cost-per-click. Worse yet, your landing page may be deemed irrelevant or unscrupulous. Make sure things match up.
The top of your landing page should contain your branding, a headline to draw the user in, an image (or preferably a number of images) of the product or the product in use, a little more info about the product (more than can be included in the ad) and then a call to action to buy the product (preferably right from the landing page).  The simpler you make the page and the easier you make the product purchase, the more products you'll sell. You can also create multiple landing pages for multiple ads if you'd like to better define your target buyers (red haired lumberjacks, brunette lumberjacks, blonde lumberjacks, etc.)
 How to measure the success of your e-commerce PPC advertising
The most narrow definition of a successful ad campaign is that the company made more from the PPC ads than they spent. The question is, was it a 1.5% Return On Ad Spend (ROAS) or 1000% ROAS? This data is easy to find in your Google Ads panel.
The ads panel in Google and Facebook can show how many dollars were generated in sales, but even more robust sales data can be set up in Google Analytics. Once you know what each conversion is worth and how much you paid for your campaign, you have your ROAS.
Need help setting up your PPC advertising or improving your results?
FunnelKake is a certified Google Ads Partner.